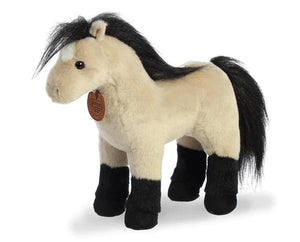 Breyer Plush by Aurora

Highland Ponies are natives of the Scottish Highlands and are one of the largest of the mountain and moorland pony breeds of the British Isles. They were once workhorses on the Scottish mainland and islands, but today are used for driving, trekking, and general riding.
Due to the harsh climate of their homeland, this breed has developed strong, thick coats with a soft, dense undercoat to keep them warm. This coat is shed in the spring to reveal a smooth summer coat. Combined with a kindly nature and even temperament, Highland Ponies are a pleasure to have in your barn.
Standing 11" tall, this pony is sure to be a favorite among the horse lovers!
Suitable for all ages.