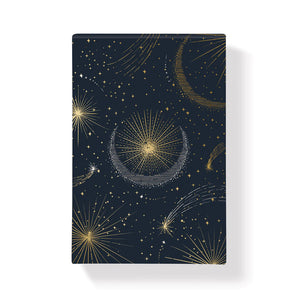 MEM SHOOTING STAR DESKTOP NOTEPAD
Desktop notepad with flexible hardcover wrapped in bookcloth, featuring Fringe original artwork with metallic gold foil accent and an easel flip cover.

As part of our Memento lookbook, this design was inspired by European flea market finds, Vintage French textile art, and mid-century style drawings that hearken back to Fringe's classic design roots.

Each piece of art has a story to tell with unique history and inspiration behind it, which is depicted in the art note below.

Memento Original Art Note
SHOOTING STAR created by Fringe artist, Lea
The highly detailed art of our ancient universe captures romantic notions of shooting stars and the rising moon. Slowly drawn in a classic style, this cover art is as convincing as something found in an old bookshop. Perhaps this sparkling piece of mystery will inspire one to slow down and look just a bit deeper into the nature of things.
• 6" l x 4" w
• Fringe original artwork
• Easel flip cover
• 160 lined perforated pages
• Produced responsibly with FSC paper