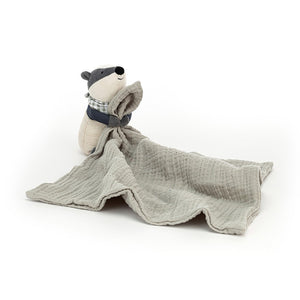 Some days are just grumpy days, so bring in the Little Rambler Badger Soother. Gentle and neutral, this soothing sage brings a scruffly comforting blankie. With bold stripe fur, beige dungarees and a knotty scarf, this badger's pretty dapper.
Measurements: H12"x W5"
Safety & Care: 

40 degree Celsius wash only; do not tumble dry, dry clean or iron.